Client Introduction & Business Requirement
Our client is a leading newsprint mills company based in South India. Their work floor consisted of 1000 contractors who entered and left the premises without a proper attendance/ security system in place. Their requirements were:
Attendance Management
Advanced video analytics for security purpose
Solution Overview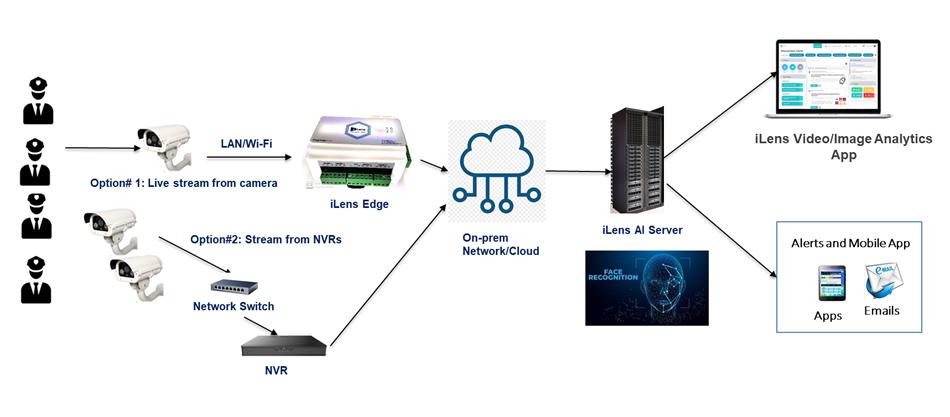 When someone enters the work premises, the camera at the Entry would register his/ her face and map it with the existing employee database using AI powered facial recognition models. Based on his/her entry & exit time, the attendance would be logged.
AI-powered 2 Factor Authentication and checking of genuine passage of employees is accomplished by following their in-time and out-time (Facial Recognition & Card Punch).
In the scenario where an unauthorized person enters the work floor or a deviation in Facial Recognition occurs, a real-time alert would be sent to the Admin, so immediate action could be taken. The solution also includes the option to save the video for later use.
Using the Time Matrix capability, overtime working hours are computed; employees with higher working hours get featured in the final report.
All data pertaining to employee attendance is stored in Mongo DB with minimum length stockpiling of 2 years.
Web Dashboards with attendance reports were created for the HR Dept. and Admin to perform analysis of employee engagement.
Business Benefits
Reduced manual effort of producing and checking employees' ID card.
Following the one-time setup of this solution, employees' identity & attendance are automatically logged, hence proving to be both a security & attendance management solution.
At Knowledge Lens, we constantly work towards improving our product technologies, so your business can do more for you. Visit us here to learn how you can grow your business operations through our Industry 4.0 solution today.